Black bear and Waterfall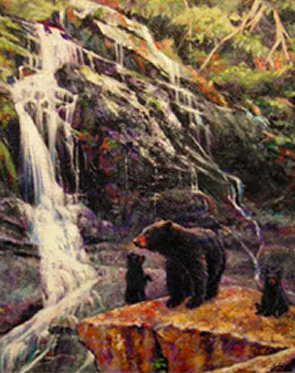 Thoughts of a Fisherman
(A Fisherman's poem)
by Derek Hegsted
In times when I am sour,
the world, to much to bear.
To the stream I go with pole in hand,
skipping without a care.
Oh, in times of wonderment,
when the big one catches the line.
Even if he breaks me off,
the experience... sublime.
To feel such power ripping through the guides,
it's hard to stop a tear.
I darst not leave this water sweet,
unable to return, I fear.
Some I keep to eat,
the children love them so.
But when a big one comes a-calling,
I have to let him go.
To return such joy to the water,
that gave such pleasure dear.
Creation of God , is he.
Sacred to him, I hear.
The waters edge I reach,
perspective in hand.
Missing my family
as I touch the land.


Size: Any size - Made to order
Giclee Canvas
Open Edition
Signed by the Artist

Availability: Upon Request

Original has been Sold.