Fear of Hope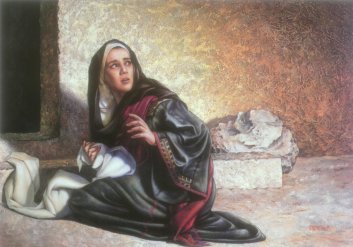 Fear of Hope
by Derek Hegsted
Feeling the desperation of the loss of Christ's body, Mary lingered at the tomb. She drew close the piece of linen, her only link to Christ, the cloth that enveloped the torn and abused body of her best friend, her Savior. She was moored to it, as if it were the only thing to keep her alive, as if it had a comforting force. She could control the fierce pain no longer, and wept for the incredible loss. Then a voice said to her, "Woman, why weepest thou?" Thinking in earthly logic and casting aside the feeling of a familiar voice, she said, "Sir, if thou hast borne him hence, tell me where thou hast laid him, and I will take him away." With a tender voice he uttered but one word, "Mary." Joy swelling within her, she turned to the light, fearing to hope when it seemed "It cannot be."

Because of a woman's nature, Christ chose Mary Magdalene as the first witness of the resurrection. This painting is my tribute to women.

Selections Available

Price
5x7 Lithograph
$2.95
14x20

Acrylograph

Canvas Limited Edition of 750 Signed by the Artist
$125.00
14x20

Acrylograph

Canvas, Artist Proof, Limited Edition of 75 Signed by the Artist
$155.00
Original has been sold.